Hi Everyone,
The dolphin sightings have gone "off the boil" a bit (apart from yesterday morning when I wasn't there and it was pouring with rain and the action was meant to be great) with sometimes only Zephyr, Breeze and a couple of other at Chanonry. There have been, none the less, some unusual sightings including a mighty Humpback whale that actually came past Chanonry Point, turned round and then quickly headed back out to sea again. We only ever see Humpacks about once every ten years and I was excited when a buddy of mine phoned me a few days ago from Chanonry early in the morning to say that something very large was in the area. A good photographer that was there early managed to get a series of shots of the humped back of the animal so identification was easy. Sadly it didn't hang around until I got there ! A possible reason for the whale being in the area is the huge amount of sand eels that are around the Inner Firth and are the main food source for sea-birds, some fish species like Mackerel and other marine animals like seals and porpoises. This huge group of gulls (called a "hurry") were making a huge amount of noise as I walked along the beach towards the Point this morning and I took a load of quick photos to try and make out what they were feeding on.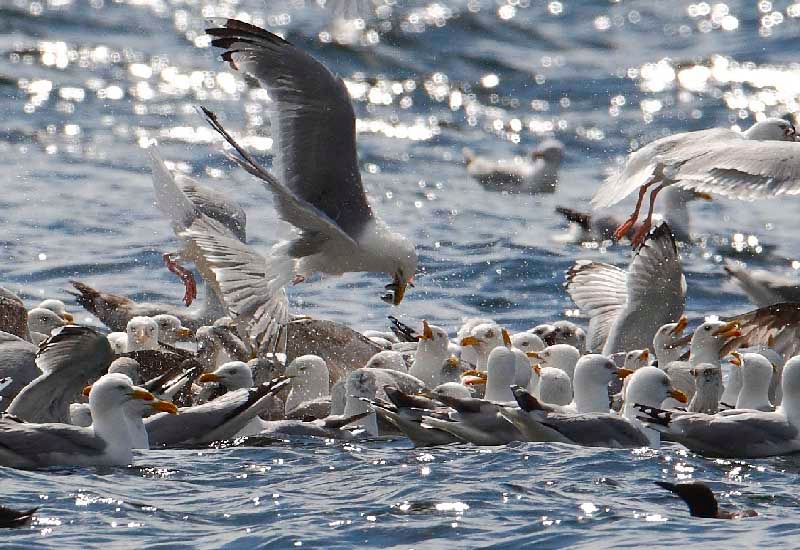 ©WDCS/Charlie Phillips
Some of the gulls did have sand eels although I did see a gull with a small crustecean called a crayfish in it's beak. What a racket !
Best Wishes,
Charlie.